Ahipara Bay Motel & Bayview Restaurant & Bar
Ahipara Bay Motel & Bayview Restaurant & Bar
Great accommodation and dining at Ninety Mile Beach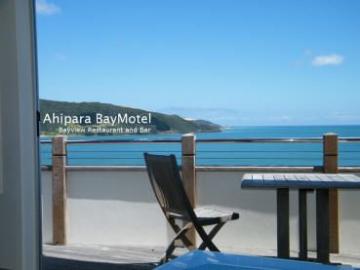 Relax at the Ahipara Bay Motel, Image ©
Ahipara is a small coastal village situated at the southern end of Ninety Mile Beach in New Zealand's far north.
The Ahipara Bay Motel is situated 200 meters back from the beach on an elevated section allowing us to have panoramic sea views of Reef Point, Shipwreck Bay and up Ninety Mile Beach.
We accept pets by arrangement in our standard units.
We also have the Bayview Restaurant & Bar on site so you can enjoy being wined and dined in our restaurant or relax with a drink on the deck.
Cooked or continental breakfasts are available in your unit or the restaurant. And after a day's exploring the Ninety Mile Beach region, enjoy an evening meal looking out at the bay.
Whatever you're planning to do here, you'll find the Ahipara Bay Motel a great base to explore the Ninety Mile Beach area from.
Watch a video of Ahipara Bay Motel Accommodation